Home Patients Patient Stories Lori's Story
Lori's Story

At the age of 54, I woke up to what seemed like just another Sunday, but later would turn out to be anything but "normal".
On that Sunday, I remember thinking about how much I was enjoying my "second-half" career as a recently licensed marriage and family therapist grateful, for a thriving private practice and the opportunity to help others. And as a single mom of 2, I was just starting to find the confidence to put my toe in the proverbial online dating pool. In fact, I had recently begun dating a man "of interest". On this particular Sunday, admittedly I woke up with a sense of excitement about this man as he had phoned me just the day prior and expressing interest in meeting up later Sunday afternoon.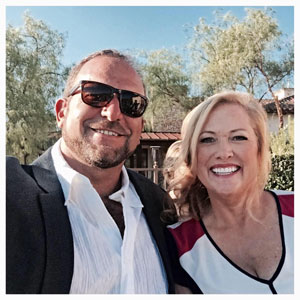 With a heart full of excitement and gratitude, I made plans to go with a long-time friend to our local church with hopes of getting the day off to an even better start. The service was upbeat and I was happy for my decision to go. After the service, I headed home to prepare for the week ahead.
And that's when my life took a most unexpected turn. It was Sunday, May 3, 2015. I had dropped my friend off and was heading home across a thoroughfare I had traversed at least a million times. And suddenly with no notice at all, my car was clipped by a van and starting spinning out of control, landing in the outer embankment. The car was crushed like an accordion and me along with it.
The paramedics did what they could to get me out of the car and transport me to a nearby hospital. I know I was in shock because I was certain "I was fine" and that this was all really much ado about nothing.
How could I have known when I woke up on that beautiful Sunday morning that by noon I would be laying alone in a hospital with a spinal cord injury, my back broken in 3 places and a preliminary diagnosis of paraplegia? It was unbelievable to me.
There I was…a single mom with two children, 30 patient appointments lined up commencing the next day and a mortgage to pay in 13 days.
My next door neighbor was the first to arrive at the hospital. She quickly assessed that I would not be coming home with her that day and not knowing who she should call, she began by dialing people I had most recently called prior to the accident. With that as her guide, can you guess who was first on her list of people to call? The man I had only been out with on a handful of dates! And she reported that from the moment she reached him to the moment he showed up at my bedside the total time elapsed was 9 minutes!
By then, my family and other loved ones were starting to gather with deep concern as to my prognosis. And with all that going on, I asked everyone to leave the room except for him. And when it was just the two of us, I told him with all the confidence I could muster "Thanks for coming down, but you need to go. We don't know what this is. I don't know where the road goes from here; I don't know my future. I don't expect you to stay; please feel free to go."
And his reply to me? "Who are you to decide for me if I stay or if I go; I'm staying." And so he did.
By way of a miracle, Dr. Mundis was assigned my case. And with the kindest, most empathetic bedside manner one could possibly hope for, he did his best to explain my injuries, the options available, potential risks and his recommendations. Ever the optimist, I was hopeful this was going to be some sort of outpatient procedure whereby I could be back to my work and life by Monday morning. And as crazy as I'm certain that sounds, Dr. Mundis told us how he understood, and how he was going to do everything he could to get me back to my life as soon as possible.
I should probably mention that over the course of time, that guy I had only dated a handful of times named Shawn did stay. And he was there for every part of it. I'm pretty sure Dr. Mundis thought Shawn was my husband.
Surgery was scheduled for May 5, 2015. Dr. Mundis met with us early that day with words of encouragement, hope, and even a willingness to pray with us!
I later learned my spine was outfitted with 2 rods and 10 screws to hold me together. I stood for the first time the next day with lots of assistance from many kind people. I was soon transferred to a rehabilitation facility where I re-learned how to sit up, stand, walk, shower, and dress myself. Practice made perfect and I was released 9 DAYS later, far earlier than projected. I made that mortgage payment and every payment since. And my private practice continues to thrive. And friends that I never even knew I had, came out of the woodwork to help.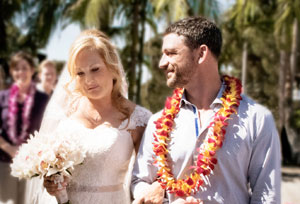 Oh! And that guy, Shawn, who stayed with me throughout? Well he proposed to me and we set a date to be married 17 months after the accident. And who better to walk me down the aisle that day? Well, there would be no better person than Dr. Mundis (who graciously agreed). After all, if it weren't for him, plus a lot of answered prayers, I don't think I would've been able to WALK down that aisle. And walk I did with Dr. Mundis accompanying me all the way. As I write this, we will have been married almost a month and I am the happiest I have ever been. Are their hard days? Yes. Does everything work the way it used to before the accident? Not exactly.
High heels are out of the question. But I can walk my dog. I can garden. I can drive. I can hike. I can snorkel. And I am back to my beautiful, albeit imperfect life, happily married to the man who walked into that hospital and never walked out. My message?
Never lose your "H.O.P.E." no matter the circumstances.
Hold On, Pain Ends.
Sometimes it's in the darkest times, we grow.
San Diego Spine Foundation thanks Lori for sharing her words of courage and hope for all those who struggle in their lives, regardless the reason.