---

Learn More About the SDSF Webinar Series
Watch March 27, 2021 Event - Cervical Myelopathy and Spinal Cord Injury. 2 Presentations
Watch the November 21st Event - Systematic Approach to Pediatric Spine Deformity Care
2020 Annual Report Available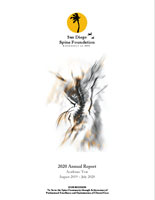 As 2020 draws to a close, we have much to be grateful for and have all been reminded of the singular importance of health and science in protecting our loved ones.
We are fortunate to have Peter O. Newton, MD, joining the SDSF Board of Directors. Peter is Chief, Division of Orthopedic Surgery, Rady Children's Hospital, Clinical Professor at UCSD, and Past President of SRS. He is currently president of SSSF and the Harms Study Group, with vast experience in clinical and basic science research.
Our mission is ongoing and the 2020 pandemic has created a unique set of challenges. We invite you to download our 2020 Annual Report and ask that you consider the Foundation as a part of your annual giving plan. 
Download 2020 Annual Report Here
We Got There!
We're pleased to announce that we met the  goal of raising funds to establish the Behrooz A. Akbarnia and Nasrin Owsia Akbarnia Endowed Spine Chair in the Department of Orthopedic Surgery at UCSD.  This is the first ever endowed chair for this Department at UCSD.  Dr. Akbarnia is extremely honored to have this Endowed Chair in his name, with a focus on building bridges between UCSD and the San Diego Spine Community, as well as to promote research and education. 
SDSF was a proud contributor to this effort and along with the UCSD Dept. of Orthopedic Surgery, industry and private supporters, we got to the finish line!   
We're grateful to all who helped out. You can learn more in this year's Annual Report.
THANK YOU!
New Outreach Video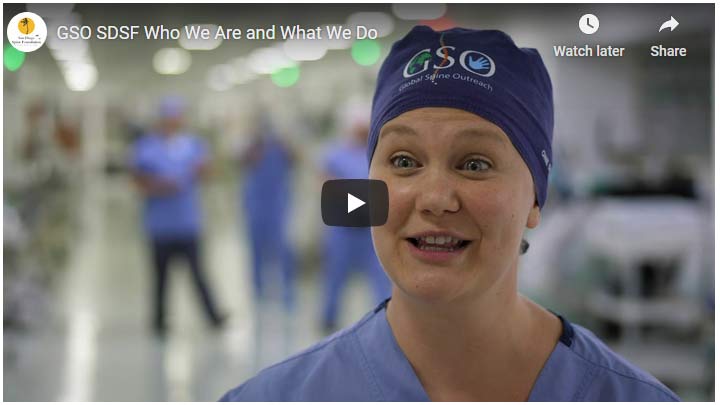 Watch this heart-warming video to learn more about SDSF and our Outreach activities in under-served communities.
SDSF News
Farewell to our Graduating Fellows Ryan J. Hoel, Ruwan P. Ratnayake and BNI In-Fold Residents Jakub Godzik (not in photo) and Corey Walker!  We wish you the very best!
San Diego Spine Annual Visiting Professorship Goes Virtual

In order to ensure the health and safety of everyone involved with our Annual Meeting, our leadership has elected to transform this year's meeting to a virtual format. PLEASE SAVE THE DATE for Friday, July 31, 2020 from 6:30 to 8:30 a.m. for our VP webinar which will feature our 2 Visiting Professors and our graduating fellow's.  More information will be provided soon!
     2020 VISITING PROFESSORS:
     PETER O. NEWTON, MD - Chief of Division, Orthopedic Surgery at Rady Children's Hospital San Diego, Rady Children's Hospital Medical Practice Foundation, Past President (2018-19) Scoliosis Research Society
     DOMINIQUE A. ROTHENFLUH, MD, PhD - Consultant Spinal Surgeon at Oxford University Hospitals, NHS Foundation Trust, Senioe Research Fellow at Nuffield Dept of Orthopaedics and Rheumatology and Musculoskeletal Sciences, Univerity of Oxford, Oxford, England
Congratulations to our 2019 - 2020 Clinical Fellows
| | | | |
| --- | --- | --- | --- |
| Ryan J. Hoel, MD | Ruwan P. Ratnayake, MD | Jakub Godzik, MD | Corey Walker, MD |
The San Diego Spine Fellowship Program would like to congratulate our graduating fellows for 2019-2020.  Our post-residency fellows, Ryan J. Hoel from University of Minnesota and Ruwan P. Ratnayake from University of California, Davis, and 2 Barrow Neurological Institute PGY-6 residents from Phoenix, AZ Jakub Godzik (Aug 1 2019 to January 15, 2020) and Corey Walker (January 16 to June 30, 2020) have concluded their training and will be beginning the next chapters of their careers.  
Congratulations gentlemen, well done!
Welcome to our New Clinical Fellows for 2020-2021
| | | | |
| --- | --- | --- | --- |
| Robert J. Ames, MD | Daniel Reid, MD, MPH |   |   |
The San Diego Spine Fellowship is ready to welcome the newest members to our SDSF Family:  2020-2021 Clinical Fellows Robert J. Ames, MD from Temple University Hospital in Philadelphia, PA and Daniel Reid, MD, MPH from Brown University, Warren Alpert School of Medicine in Providence, RI.  Welcome gentlemen, we will look forward to having you join our team.
Our faculty looks forward to the tremendous exchange that will take place this coming year.  Welcome Robert and Daniel!
Congratulations to Our New 2021-2022 Clinical Fellows!
| | | | |
| --- | --- | --- | --- |
| Kody Barrett, MD | Micah Blais, MD |   |   |
The San Diego Spine Fellowship would like to congratulate our newly matched Clinical Fellows for 2021-2022.  Kody Barrett, MD is an Orthopedic Surgery Resident at Harbor UCLA Medical Center, Los Angeles, California.  Micah Blais, MD has completed his Orthopedic Surgery Resident at Harvard Combined Orthopedic Residency Program, Boston, Massachusetts. They will begin their fellowship training on August 1, 2021.
SDSF Mission - Mentorship
SDSF would like to thank AOSpine for providing SDSF the link to a recent talk by our Vice President, Greg Mundis, Jr. on the topic of Mentorship as well as self-reflection for physicians, as part of the AOSpine Banff Virtual Educational Series.  We hope that you'll find Dr. Mundis' presentation insightful and relevant today, more than ever.
     https://p.widencdn.net/4nhlnm/Virtual-Banff---Surgeon-Know-Thyself
2019-2020 SDSF Spine Fellow Ruwan Ratnayake receives Thornburg Award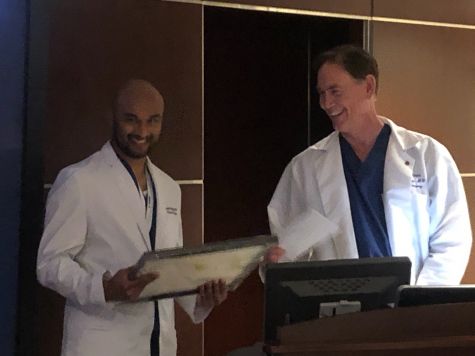 Congratulations to Ruwan Ratnayake, MD, who just received the Thornburg Award on June 10, 2020 for his research presented at the 2020 Annual Gittes Meeting at Scripps Green Hospital in La Jolla, California.  The award is for Research in Surgery by a Fellow.
SDSF in a COVID-19 World
SDSF and the San Diego Spine Fellowship Program continue to be operational during this historic pandemic.  Thanks to the combined dedication of our faculty, fellows and staff, training continues largely via Zoom conferencing with all bi-weekly spine conferences, research meetings and Journal Club meetings being held via online conferencing.  Our Visiting Professorship Meeting for 2020 will be reassessed in the near future, based on state and local mandates.  We hope to fully engaged with our spine community as soon as we are able.  
In the meantime, SDSF hopes everyone will stay well so we can bend the curve and resume normal operations.  Best wishes to everyone!
Introducing Mai Lee, aPHR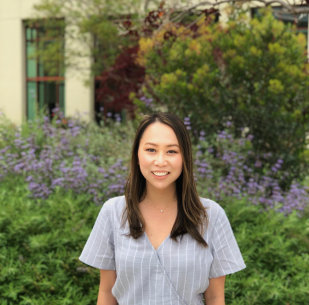 SDSF is pleased to welcome Mai Lee, aPHR as the newest member of our family, with her primary role as Fellowship Administrator.  Mai received her B.S. in Business Administration from San Diego State University.  She has a background in human resources and has held various HR roles in the areas of onboarding, recruiting, training, employee relations, benefits, and systems.  Mai spent the majority of her career working for a non-profit research institute and was most recently at a clinical-stage biotech company before joining the San Diego Spine Foundation.  She enjoys supporting organizations that are making meaningful impact to improving human health and quality of life.  She enjoys exploring San Diego, cooking, and spending time with family located in San Diego and Minnesota. 
2020 Winter Gala - Thank You!
The SDSF-GSO combined winter Gala, held on February 28, 2020 at the Hyatt Aventine Hotel, was a tremendous success.  We cannot thank everyone enough who contributed to our success.  All photos from our event can be viewed on our webpage at https://www.sandiegospinefoundation.org/about/2020-gala/ 
Our

Mission
To Serve the Spine Community through Achievement of Professional Excellence and Optimization of Clinical Care  
Our

Vision
To enhance professional excellence in spine care in San Diego through mentorship, education, research, advocacy, and leadership, while serving patients with spinal disorders through quality care that is thoughtful, scientific, and compassionate 
Spine Fellowships
Fellowship training is critical to the advancement of spinal care. The Foundation supports the San Diego Spine Fellowship program. All participating surgeons in the program are nationally recognized specialists in both non-operative and operative spine care.
For physicians seeking information about applying for the Fellowship program, please Learn More Here.