Help Us Get There!
SDSF and Behrooz Akbarnia are pleased to announce the partnership with University of California, San Diego towards the goal of raising funds to establish the Behrooz A. Akbarnia and Nasrin Owsia Akbarnia Endowed Spine Chair in the Department of Orthopedic Surgery.  This is the first ever endowed chair for this Department at UCSD.  Dr. Akbarnia is extremely honored to have this Endowed Chair in his name, with a focus on building bridges between UCSD and the San Diego Spine Community, as well as to promote research and education. 
SDSF is a proud contributor to this effort and along with the UCSD Dept. of Orthopedic Surgery, industry and private supporters, we are almost to the finish line!   
We're pleased to announce we met our funding goal. We're grateful to all who helped out, and will post more news in the very near future.
THANK YOU!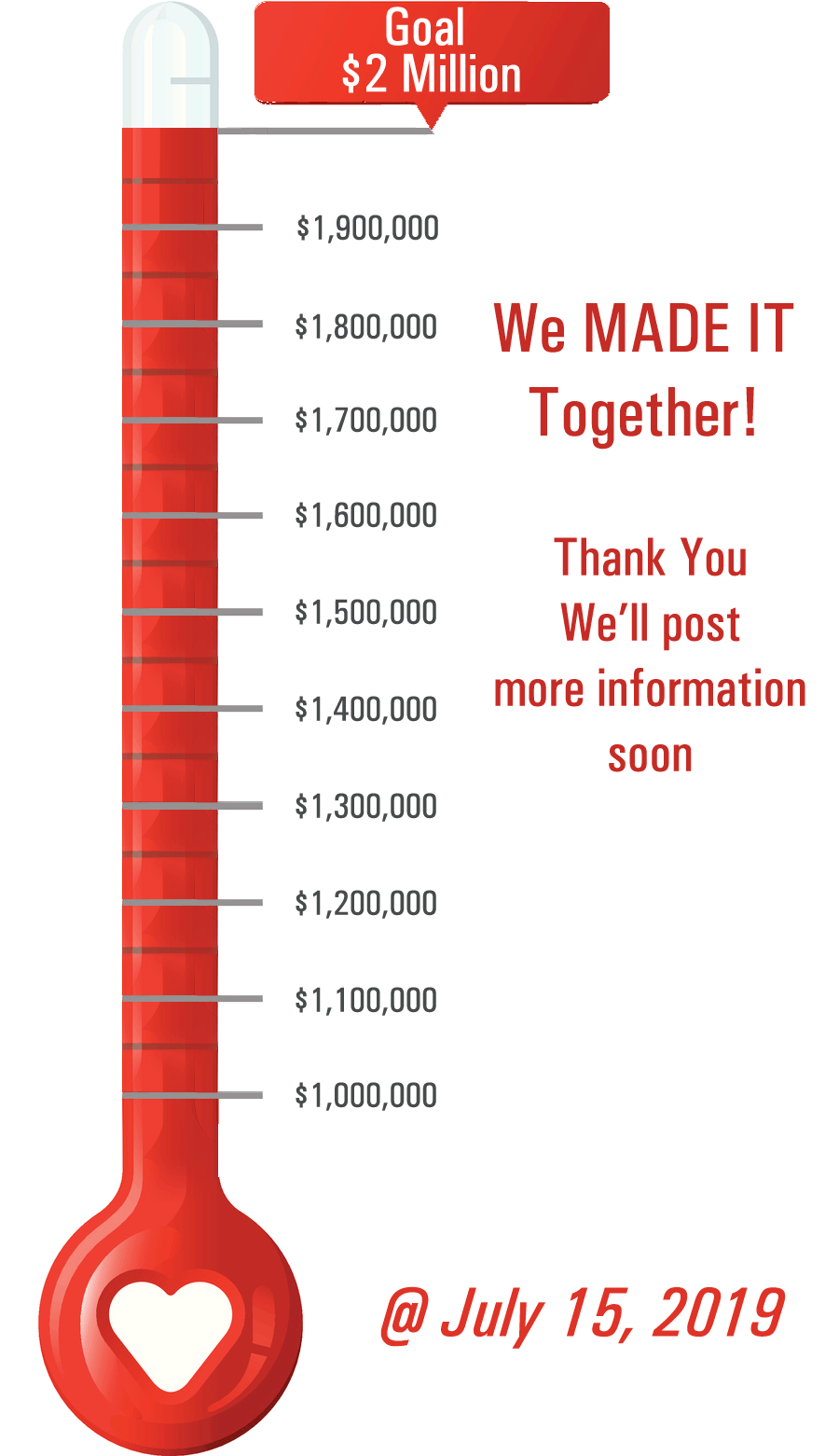 ---
2018 Annual Report Available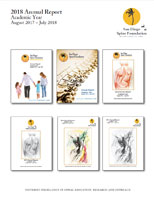 Another year of pursuing the Foundation's research goals led to our presentations at meeting around the world. This year also, we made a decision to initiate a project in collaboration with the Department of Orthopaedic Surgery at the University of California, San Diego, and help to establish the first ever UCSD Endowed Chair in spine surgery.
The report details collaboration with Global Spine Outreach in their Mexico Mission and pays tribute to the Research Volunteers who have been so important to SDSF over the years.
This year's report also features new patient stories to personalize the importance of our work. You can read stories from Jennifer,  Keely, and Nancy to find 3 very different but equally compelling tales of spinal disorders and treatments.
Our mission is ongoing and the need does not decline. We invite you to download our 2018 Annual Report and ask that you consider the Foundation as a part of your annual giving plan. 
Download 2018 Annual Report Here
SDSF News

 

SDSF Past and Current Fellows Attend Scoliosis Research Society Annual Meeting in Montreal, Quebec, Canada
SDSF was pleased to have current and past members attend the SRS Annual Meeting September 18-21st in Montreal.  Among those attending are Amrit Khalsa, Ruwan Ratnayake, Pooria Salari, Vikas Varma, Ryan Hoel with Director Emeritus Behrooz Akbarnia.
SDSF Welcomes Its Newest Team Member, Lindsay Howett, Academic Manager
After graduating from the University of Hertfordshire in England with a Bachelor's Degree in Biochemistry, Lindsay worked for Glaxo Wellcome and later GlaxoSmithKline as a Scientist in Drug Research.  She moved to San Diego in 2002 and managed the Toxicology Department at Anadys Pharmaceuticals, until their acquisition by Roche.
Lindsay came to SDSF in 2019, principally drawn because the organizations heart — people — is the fulcrum of their many activities.  In her role as the Academic Manager she supports the close-knit team of Faculty and Fellows. 
Her many interests are founded in a love for nature, working with people of all ages and serving in communities.  She lives in Encinitas, CA.  
Welcome!  2019 - 2020 Clinical Fellows
| | | | |
| --- | --- | --- | --- |
| Ryan J. Hoel, MD | Ruwan P. Ratnayake, MD | Jakub Godzik, MD | Corey Walker, MD |
The San Diego Spine Fellowship is proud to welcome 4 new physicians for 2019-2020.  Our post-residency fellows, Ryan J. Hoel from University of Minnesota and Ruwan P. Ratnayake from University of California, Davis, will train with us for one full year beginning August 1, 2020.  In addition, we will welcome 2 Barrow Neurological Institute PGY-6 residents from Phoenix, AZ for their elective fellowship training: Jakub Godzik (Aug 1 2019 to January 15, 2020) and Corey Walker (January 16 to June 30, 2020). 
Our faculty looks forward to the tremendous exchange that will take place this coming year.  Welcome Ryan, Ruwan, Jakub and Corey!
Announcing our New Clinical Fellows for 2020-2021
| | | | |
| --- | --- | --- | --- |
| Robert J. Ames, MD | Daniel Reid, MD, MPH |   |   |
The San Diego Spine Fellowship is so pleasd to announce the newest members to our SDSF Family:  2020-2021 Clinical Fellows Robert J. Ames, MD from Temple University Hospital in Philadelphia, PA and Daniel Reid, MD, MPH from Brown University, Warren Alpert School of Medicine in Providence, RI.  Welcome gentlemen, we will look forward to having you join our team.
Congratulations Dr. Mundis!
SDSF is pleased to announce that one of the 2019 Scoliosis Research Society Traveling Fellow Awards goes to Gregory M. Mundis, Jr., MD.  This prestigious award is presented annually to 3 junior members of the society along, who will be accompanied by a senior member of SRS.  They will travel to Africa in August-Sept. 2019 for 3 weeks and will observe Spine Centers along the way, both giving lectures as well as attending educational forums, surgeries and clinics.  These 4 Traveling Fellows will serve as ambassadors for the SRS, buidling long-term relationships with all host surgeons and their teams.
Congratulations Dr. Hosseini! 
A big congratulations to our past Research Fellow, Pooria Hosseini, MD, M.Sc., who just matched a slot with Saint Louis University's Department of Orthopedic Surgery!  Pooria will start his residency in July 2019.  Well done Pooria, you deserve it!
ANNOUNCING!! SDSF will plan to hold it's 2019 San Diego Spine Visiting Professorship Meeting on Friday, July 26, 2019 at the Hilton La Jolla Torrey Pines Hotel.  This years's Visiting Professors are:
Michael P. Kelly, MD, MSCI, Associate Professor; Dept. of Orthopedic Surgery, Associate Professor; Dept. of Neurosurgery, Washington University Medical Center, Washington University School of Medicine, St. Louis, Missouri.
ALEX VACCARO, MD, PHD, MBA, FACS, Chairman of Orthopaedics, Thomas Jefferson University. Endowed Chair: Richard H. Rothman, Professor and Chairman; Dept. of Orthopaedic Surgery,Elected President of the Rothman Institute, Philadelphia, Pennsylvania
In addition to having 2 world-class Visiting Professors again this year, our faculty is becoming increasingly diverse, including both Neurosurgical and Orthopedic Surgery disciplines, as well as having a broad scope of knowledge. This year's faculty includes past SDSF fellows who have entered academia in Seattle (Rajiv Saigal, MD, PhD, M.Sc.), Philadelphia (Amrit Khalsa, MD) and St. Louis (Pooria Salari, MD).  Our Co-Chair, Edward Nomoto, MD, is another past SDSF Fellow who has made marks at Cedars Sinai as well as by a leading surgeon volunteer doing outreach work in Mexico. They all complement our growing number of faculty from Southern California as well as San Diego.  
Thank you to all faculty who volunteer their time to educate the Southern California medical and allied health spine community with the goal of improved patient care, and thank you to all Industry Exhbitors who help to make this course possible.
Our Mission
To Foster Excellence in Education, Research and Outreach Related to the Care of Patients with Spinal Disorders, their Families and the Medical Community.
Our Vision
Building Bridges in the Spine Community
Spine Fellowships
Fellowship training is critical to the advancement of spinal care. The Foundation supports the San Diego Spine Fellowship program. All participating surgeons in the program are nationally recognized specialists in both non-operative and operative spine care.
For physicians seeking information about applying for the Fellowship program, please Learn More Here.