2018 Annual Report Available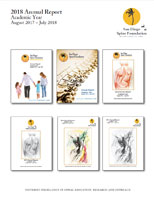 Another year of pursuing the Foundation's research goals led to our presentations at meeting around the world. This year also, we made a decision to initiate a project in collaboration with the Department of Orthopaedic Surgery at the University of California, San Diego, and help to establish the first ever UCSD Endowed Chair in spine surgery.
The report details collaboration with Global Spine Outreach in their Mexico Mission and pays tribute to the Research Volunteers who have been so important to SDSF over the years.
This year's report also features new patient stories to personalize the importance of our work. You can read stories from Jennifer,  Keely, and Nancy to find 3 very different but equally compelling tales of spinal disorders and treatments.
Our mission is ongoing and the need does not decline. We invite you to download our 2018 Annual Report and ask that you consider the Foundation as a part of your annual giving plan. 
Download 2018 Annual Report Here
SDSF News
A big congratulations to our past Research Fellow, Pooria Hosseini, MD, M.Sc., who just matched a slot with Saint Louis University's Department of Orthopedic Surgery!  Pooria will start his residency in July 2019.  Well done Pooria, you deserve it!
SAVE THE DATE!!  SDSF will plan to hold it's 2019 San Diego Spine Visiting Professorship Meeting on Friday, July 26, 2019 at the Hilton La Jolla Torrey Pines Hotel.  This years's Visiting Professors are:
Michael P. Kelly, MD, MSCI, Associate Professor; Dept. of Orthopedic Surgery, Associate Professor; Dept. of Neurosurgery, Washington University Medical Center, Washington University School of Medicine, St. Louis, Missouri.
ALEX VACCARO, MD, PHD, MBA, FACS, Chairman of Orthopaedics, Thomas Jefferson University. Endowed Chair: Richard H. Rothman, Professor and Chairman; Dept. of Orthopaedic Surgery,Elected President of the Rothman Institute, Philadelphia, Pennsylvania
In addition to having 2 world-class Visiting Professors again this year, our faculty is becoming increasingly diverse, including both Neurosurgical and Orthopedic Surgery disciplines, as well as having a broad scope of knowledge. This year's faculty includes past SDSF fellows who have entered academia in Seattle (Rajiv Saigal, MD, PhD, M.Sc.), Philadelphia (Amrit Khalsa, MD) and St. Louis (Pooria Salari, MD).  Our Co-Chair, Edward Nomoto, MD, is another past SDSF Fellow who has made marks at Cedars Sinai as well as by a leading surgeon volunteer doing outreach work in Mexico. They all complement our growing number of faculty from Southern California as well as San Diego.  
Thank you to all faculty who volunteer their time to educate the Southern California medical and allied health spine community with the goal of improved patient care, and thank you to all Industry Exhbitors who help to make this course possible.
2018:
SDSF recently held its 2018 San Diego Spine Visiting Professorship on July 27, 2018 at the Hilton La Jolla Torrey Pines Hotel.  This year, our Visiting Professors were Paul D. Sponseller, MD, MBA, FAOA from Johns Hopkins University, and James S. Harrop, MD, FACS from Jefferson Medical College.  In addition to these internationally known VPs, our program included faculty from Southern California including the Irvine and Los Angeles regions.  We would like to thank all our Exhibitors, who helped to support this meeting, which is offered at no charge to all area wide San Diego spine care providers.  
A big congratulations to Pooria Hosseini, MD, M.Sc., who has just departed SDSF in the role of Research Fellow, to begin his training at St. Louis University (SLU) in the General Surgery Department.  We are so proud of all the tremendous research work Pooria has done for the betterment of patient care.  With special thanks to SLU, SDSF will send Pooria to the 2018 Scoliosis Research Society Annual Meeting in Bologna, Italy to present one of his latest papers, which has been nominated for the SRS Hibbs Best Clinical Paper Award.  Congratulations Pooria!
SDSF is pleased to announce our future fellows for 2019-2020: Ryan Hoel, MD from University of Minnesota and Ruwan Ratnayake, MD from University of California at Davis.  Both new fellows will begin their training on August 1, 2019.  We are so pleased to add them to our SDSF Family!


After SDSF Research Volunteer Areian Eghbali of UCSD was awarded a prestigious invitation to attend and present his SDSF-based research at Harvard College, Areian has subsequently been awarded a slot in the NIH Summer Internship Program in Biomedical Research for 2018.  Areian is a co-author of a SRS Hibbs Award Best Clinical Paper nomination for 2018. Mr. Eghbali is currently applying for medical school and we support him wholeheartedly.
SDSF was honored to host the inaugural meeting of the San Diego Spine Initiative Group late January 2018. The Group's purpose is to initiate new research and education programs.  Since that time, the group is planning to move forward with this historic area wide study group, having had its most recent meeting in late May 2018. Work continues with spine physicians from many of San Diego's institutions and hospitals and SDSF looks forward to the first report with the goal of improving patient care.
Congratulations to Dr. Gregory M. Mundis, Jr. for receiving the prestigious Scripps Clinic / Scripps Medical Group 2017 Department of Surgery Chairman's Award for Excellence in Research.
Our Mission
To Foster Excellence in Education, Research and Outreach Related to the Care of Patients with Spinal Disorders, their Families and the Medical Community.
Our Vision
Building Bridges in the Spine Community
Spine Fellowships
Fellowship training is critical to the advancement of spinal care. The Foundation supports the San Diego Spine Fellowship program. All participating surgeons in the program are nationally recognized specialists in both non-operative and operative spine care.
For physicians seeking information about applying for the Fellowship program, please Learn More Here.