SDSF News
Bridging The Gap Conference
We held our inaugural Bridging The Gap (BTG) Conference at the Omni La Costa Resort & Spa, Carlsbad from July 28-30, 2022.  The conference was well attended with over 100 participants.  The focus of the BTG Conference was to bring together great minds in spine surgery across specialties to identify common challenges, or "gaps" that bridge across all domains.  The program was highly educational and interactive with panel discussions and audience participation.  We were delighted to have an all-star faculty from the eight states, Brazil and Mexico. The meeting was not just all learning – attendees also enjoyed golfing and cycling in the beautiful San Diego weather, which doubled as an opportunity to donate to SDSF-GSO.  Thank you to everyone who made it out to learn, play, and give!  We are looking forward to having everyone back next year!  
Save the date for next year's conference:  July 21-22, 2023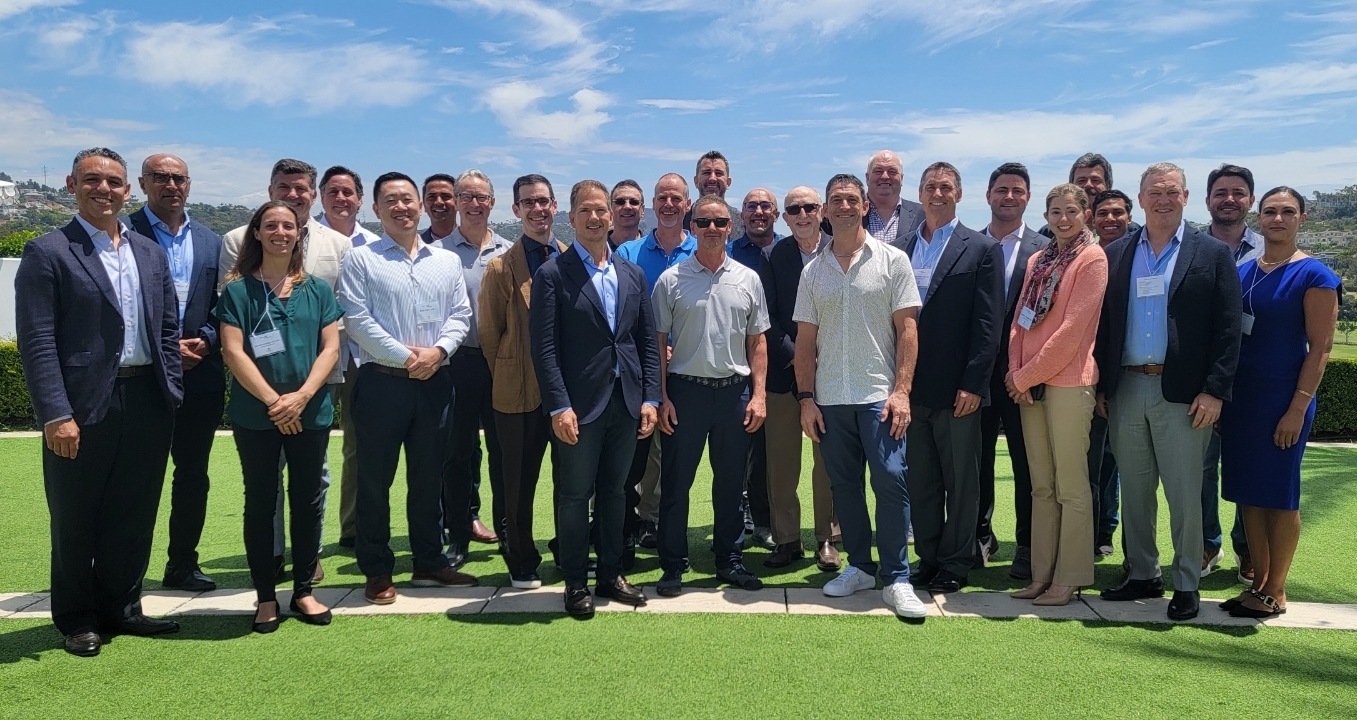 Course Faculty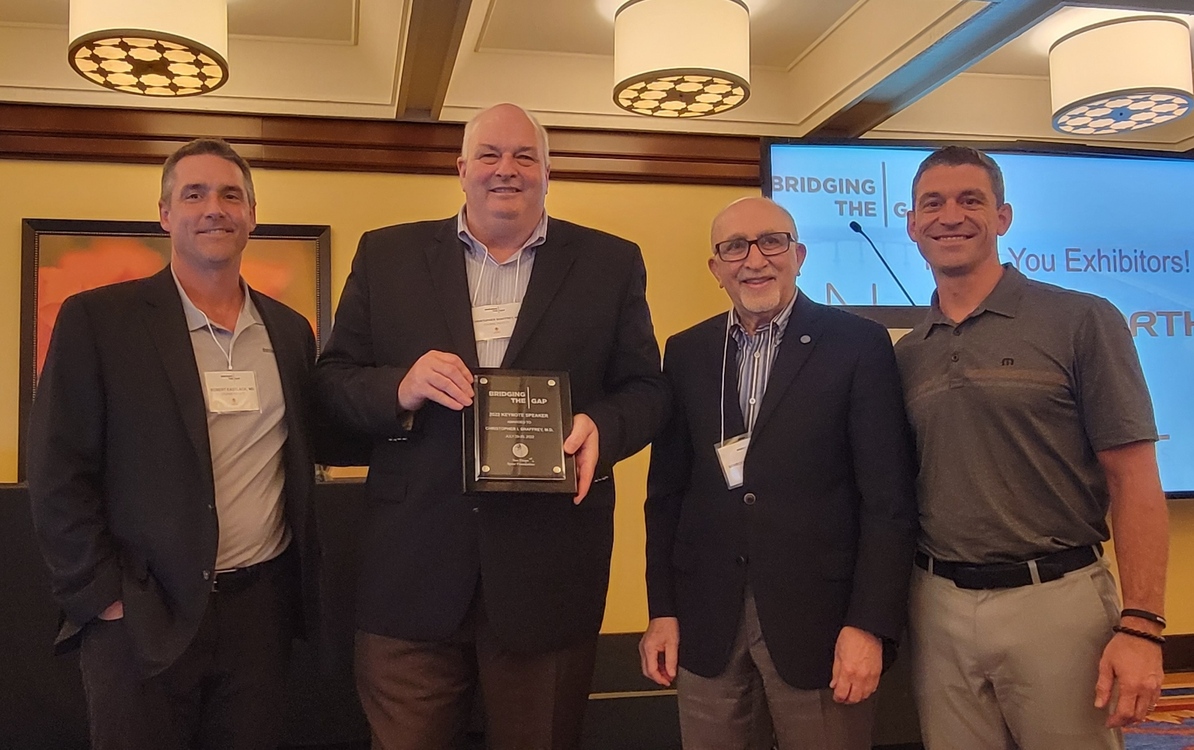 Keynote Speaker: Christopher I. Shaffrey, MD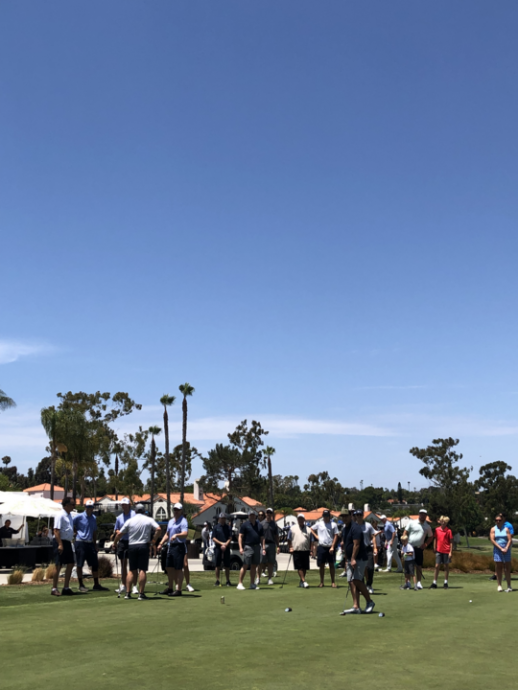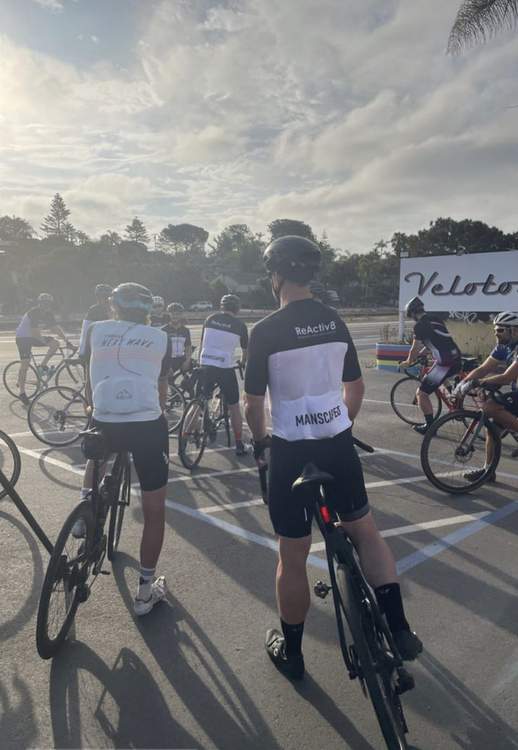 2022 GSO-SDSF Gala
We also held our biannual joint fundraising gala with Global Spine Outreach (GSO) at the Omni La Costa Resort & Spa on Saturday night, July 30th.  The event was a huge success!  Guests began the night mingling while enjoying scrumptious hors d'oeuvres and cocktails, followed by dinner and a lively auction, including a dance-off!  Over 200 guests attended the Secret Garden-themed affair and over $400,000 was raised!  We could not have done this without the tremendous generosity of our guests and sponsors.  Thank you to everyone who made this night possible!  
Photos from the event can be viewed here https://adobe.ly/3JAg7Qm
SPECIAL THANKS TO OUR SPONSORS, WITHOUT WHO CONTRIBUTED SO MUCH TO OUR SUCCESS!
Course Sponsors and Exhibitors
GOLD LEVEL: NuVasive, SeaSpine and Si-Bone
SILVER LEVEL: Carlsmed and Cerapedics
BRONZE LEVEL: ATEC Spine, CarboFix, Centinel Spine, DePuy Synthes, Globus Medical, Medtronic, NeoSpine, Orthofix, Spinal Elements, Stryker, Surgalign and Zimvie Spine
Congratulations to our 2021-22 Clinical Fellows!
Congratulations to our 2021-22 Clinical Fellows, Kody Barrett, MD and Micah Blais, MD, who concluded their training on July 31, 2022. We wish them both all the very best in their practice.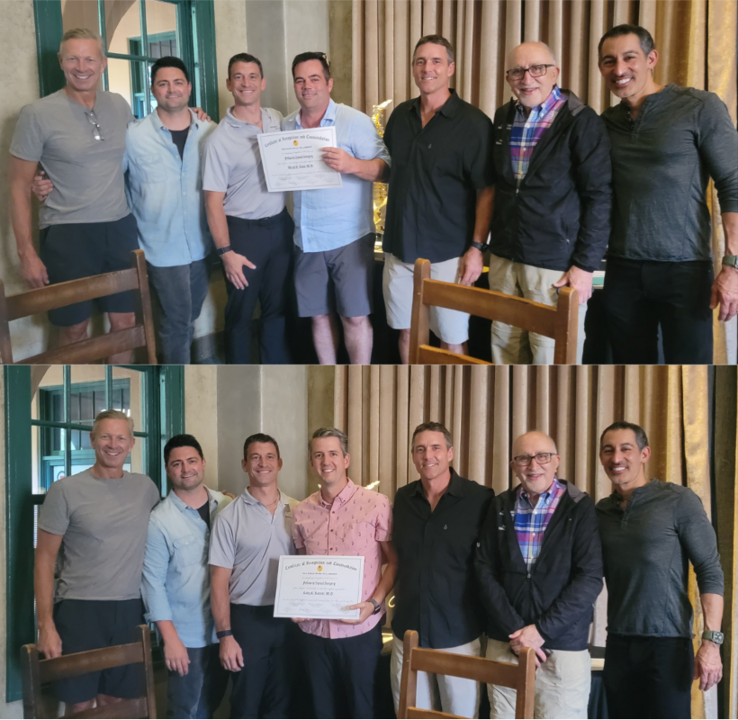 San Diego Spine Annual Visiting Professorship Expands to Bridging the Gap
It is with great pleasure that we announce the first annual Bridging the Gap Conference. Building on the annual San Diego Spine Meetings begun in 1997, the event will continue the great education but add golf and cycling to enhance networking and provide some time for fun. To make it even better, we will incorporate the Bi-Annual Global Spine Outreach - San Diego Spine Foundation fundraising Gala.
 Congratulations to our SDSF Research Grant Awardees!
They will present their research projects at the 2023 Bridging the Gap Conference.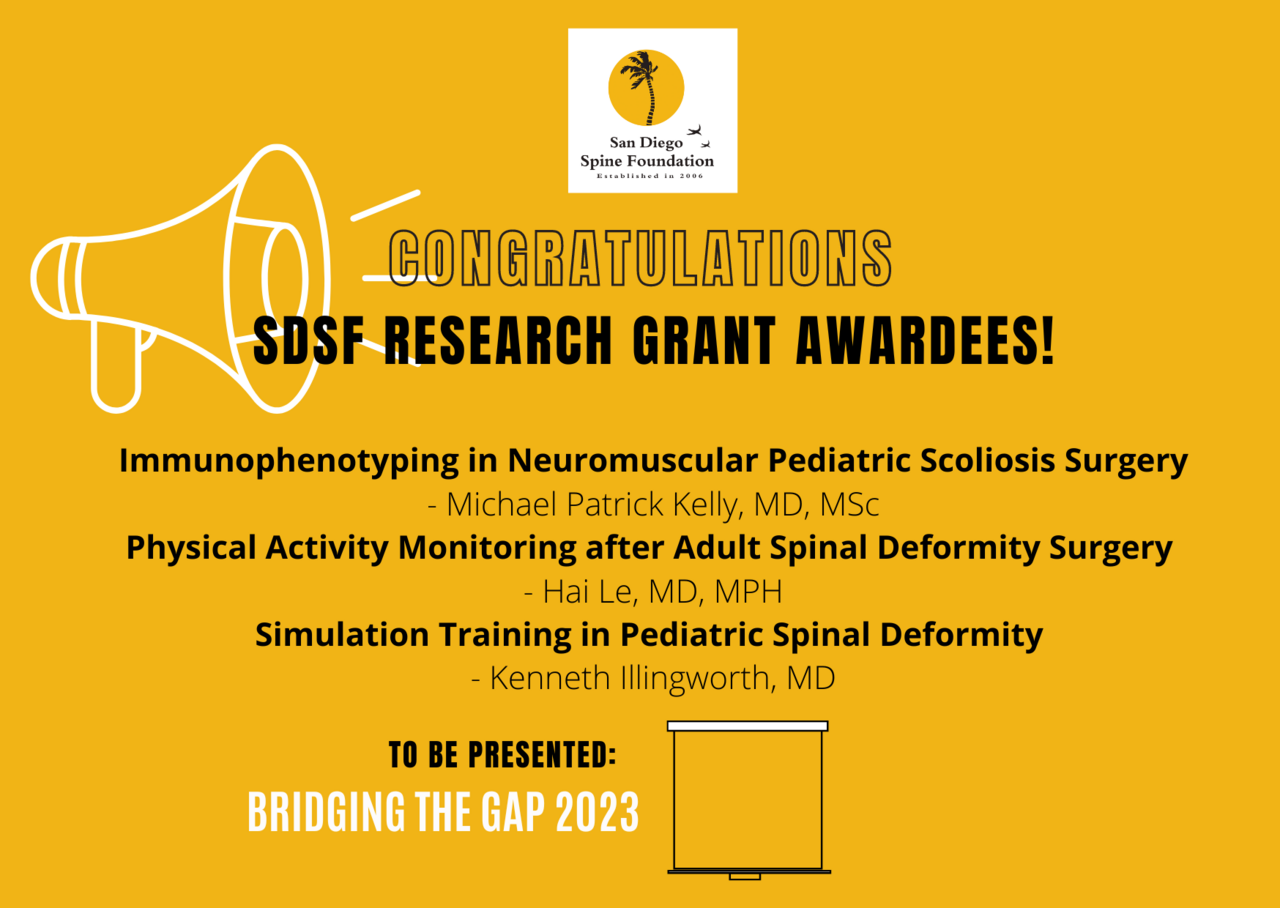 NEW! - SDSF Research Grants Now Available
Practicing Clinicians, Residents, Fellows, Medical Students, and PhD Researchers:
We are introducing the 2022 San Diego Spine Foundation Research Grant. Please find the information and links below: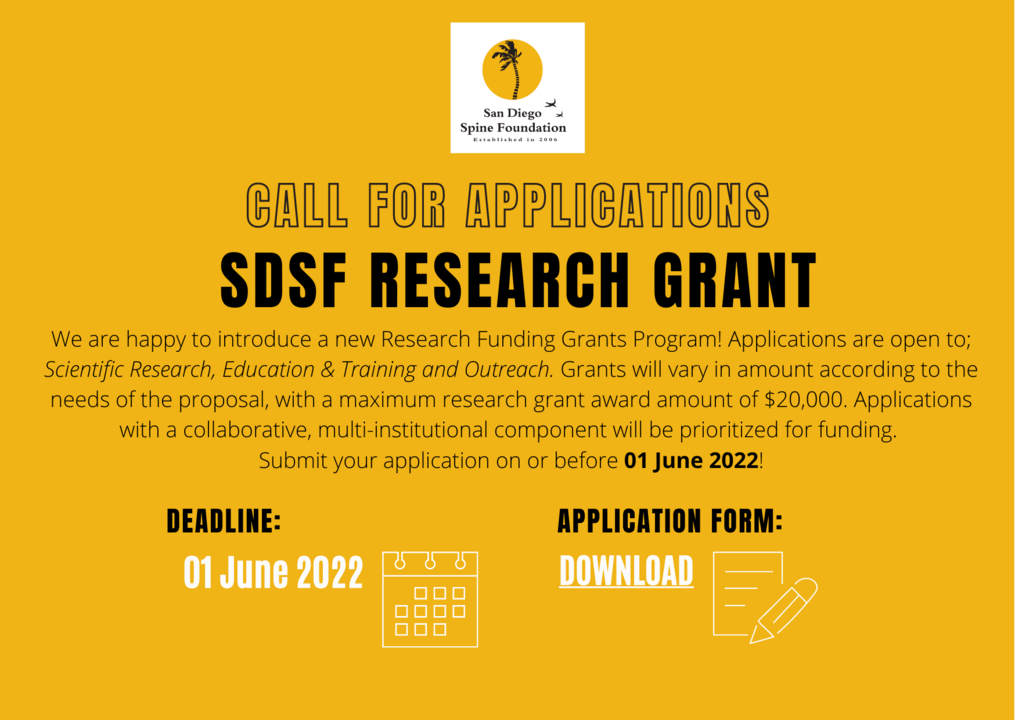 APPLICATION FOR SAN DIEGO SPINE FOUNDATION RESEARCH GRANT:
Submit application form, Biosketches and other documents in a combined PDF format to: grants@sandiegospinefoundation.org
The goal of the SDSF research mission is to support collaborative research focused on applying basic, translational, and clinical science to improve education, foundational knowledge, and quality of clinical care for individuals with spine conditions. 
Grants will vary in amount according to the needs of the proposal, with a maximum research grant amount of $20,000. Available funds will vary for each cycle depending on yearly resources. Applications with a collaborative, multi-institutional component will be prioritized for funding.
 Application Form:  CLICK HERE TO DOWNLOAD FORM
 Application Timing and Review Process:
Applications are reviewed by the SDSF Research Committee consisting of Robert Eastlack, MD, Sam Ward PT, PhD, Jeff Pawelek, and Bahar Shahidi PT, PhD, Chair. 
| | | |
| --- | --- | --- |
| Application Deadline | Committee Review | Notice of Award |
| June 1st, 2022 | July 1st, 2022 | July 30th, 2022 |
  Applicant Eligibility:
Trainees including medical students, residents, and fellows

Individuals with PhD's involved in academic or industry-focused research

Individuals with clinical degrees treating patients with spine conditions (MD's, allied health care professionals)

 
 Funding Restrictions:
Support for institutional overhead is not included in funding

A cap of $150,000 will be applied to effort for salary support
Congratulations to Our Newly Matched 2023-2024 Clinical Fellows!
| | | | |
| --- | --- | --- | --- |
| Michael J. Pompliano, MD | David Sing, MD |   | |
Congratulations to our newly matched Clinical Fellows for 2023-2024. Michael J. Pompliano, MD is an Orthopedic Surgery Resident at Seton Hall University/St. Joseph's University Medical Center, Paterson, NJ and David Sing, MD is an Orthopedic Surgery Resident at Boston University, Boston, MA. They will begin their fellowship training on August 1, 2023.
Congratulations to our Clinical Fellows for 2020-2021
The San Diego Spine Fellowship Program would like to congratulate our graduating fellows for 2020-2021. Our post-residency fellows, Robert J. Ames, MD from Temple University Hospital in Philadelphia, PA and Daniel Reid, MD, MPH from Brown University, Warren Alpert School of Medicine in Providence, RI concluded their training on July 31, 2021 and will be embarking on their next adventure in New Jersey and South Carolina, respectively! Many congratulations to a job well done and good luck on your next chapter!.
Welcome to Our New 2021-2022 Clinical Fellows!
| | | | |
| --- | --- | --- | --- |
| Kody Barrett, MD | Micah Blais, MD |   |   |
The San Diego Spine Fellowship would like to extend a warm welcome to the newest members of our SDSF Family: 2021-2022 Clinical Fellows Kody Barrett, MD from Harbor UCLA Medical Center, Los Angeles, California and Micah Blais, MD from Harvard Combined Orthopedic Residency Program, Boston, Massachusetts. Welcome gentlemen – we are looking forward to a great year ahead!
Congratulations to Our Newly Matched 2022-2023 Clinical Fellows!
| | | | |
| --- | --- | --- | --- |
| Amber Price, MD | Cameron Shirazi, MD |   | |
The San Diego Spine Fellowship would like to congratulate our newly matched Clinical Fellows for 2022-2023. Amber Price, MD is an Orthopedic Surgery Resident at the University of Mexico Hospital, Albuquerque, NM and Cameron Shirazi, MD is an Orthopedic Surgery Resident at the University of Oklahoma Health Sciences Center, Oklahoma City, OK . They will begin their fellowship training on August 1, 2022.
Congratulations to our 2019 - 2020 Clinical Fellows
| | | | |
| --- | --- | --- | --- |
| Ryan J. Hoel, MD | Ruwan P. Ratnayake, MD | Jakub Godzik, MD | Corey Walker, MD |
The San Diego Spine Fellowship Program would like to congratulate our graduating fellows for 2019-2020.  Our post-residency fellows, Ryan J. Hoel from University of Minnesota and Ruwan P. Ratnayake from University of California, Davis, and 2 Barrow Neurological Institute PGY-6 residents from Phoenix, AZ Jakub Godzik (Aug 1 2019 to January 15, 2020) and Corey Walker (January 16 to June 30, 2020) have concluded their training and will be beginning the next chapters of their careers.  
Congratulations gentlemen, well done!
Farewell to our 2019-2020 Graduating Fellows Ryan J. Hoel, Ruwan P. Ratnayake and BNI In-Fold Residents Jakub Godzik (not in photo) and Corey Walker!  We wish you the very best!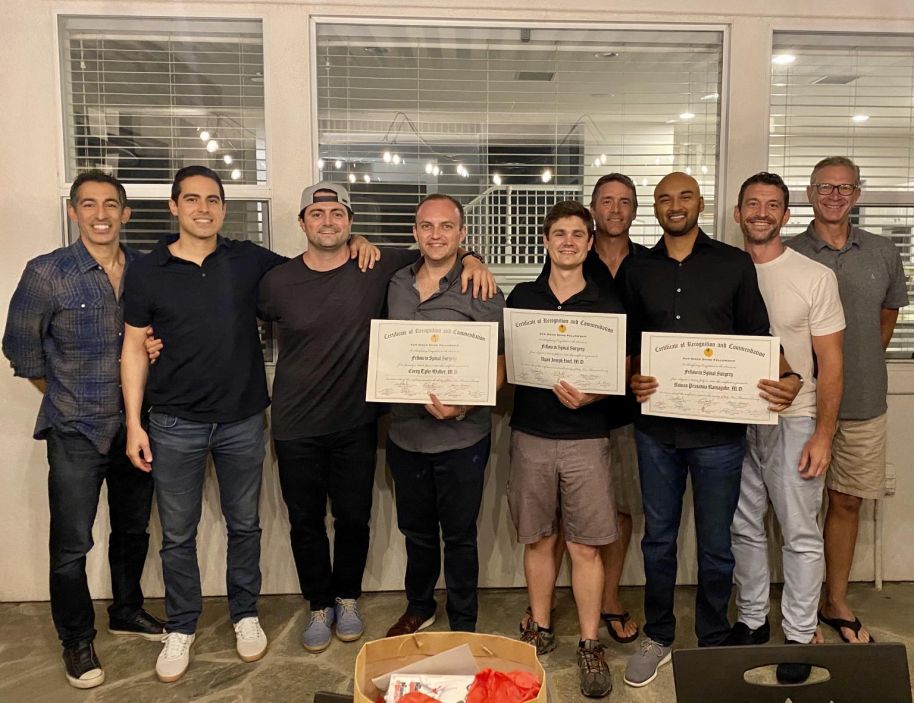 2021 Annual Report Available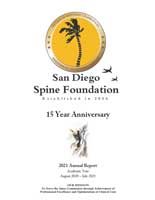 Our 2021 Annual Report is now available for download. The Report celebrates our 15th year, and we took advantage of that fact to look backwards at our history and activities.
Download 2021 Academic Year Annual Report
Endowment Progress
We previously announced that we met the  goal of raising funds to establish the Behrooz A. Akbarnia and Nasrin Owsia Akbarnia Endowed Spine Chair in the Department of Orthopedic Surgery at UCSD.  This is the first ever endowed chair for this Department at UCSD.  Dr. Akbarnia is extremely honored to have this Endowed Chair in his name, with a focus on building bridges between UCSD and the San Diego Spine Community, as well as to promote research and education. 
UCSD has formed a committee to identify the person who will serve as the inaugural occupant of the Chair.
SDSF was a proud contributor to this effort and along with the UCSD Dept. of Orthopedic Surgery, industry and private supporters, we got to the finish line!   
We're grateful to all who helped out. You can learn more in this year's Annual Report.
THANK YOU!
---
SDSF Webinar Series
Learn More About the SDSF Webinar Series
Watch March 27, 2021 Event - Cervical Myelopathy and Spinal Cord Injury. 2 Presentations
Watch the November 21st Event - Systematic Approach to Pediatric Spine Deformity Care
New Outreach Video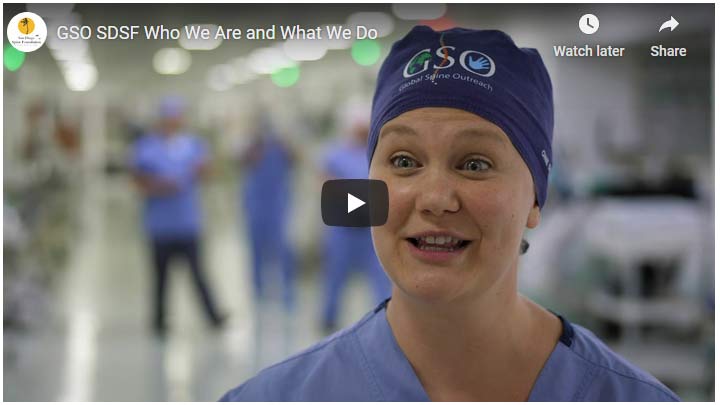 Watch this heart-warming video to learn more about SDSF and our Outreach activities in under-served communities.
SDSF Mission - Mentorship
SDSF would like to thank AOSpine for providing SDSF the link to a recent talk by our Vice President, Greg Mundis, Jr. on the topic of Mentorship as well as self-reflection for physicians, as part of the AOSpine Banff Virtual Educational Series. We hope that you'll find Dr. Mundis' presentation insightful and relevant today, more than ever.
https://p.widencdn.net/4nhlnm/Virtual-Banff---Surgeon-Know-Thyself
2019-2020 SDSF Spine Fellow Ruwan Ratnayake receives Thornburg Award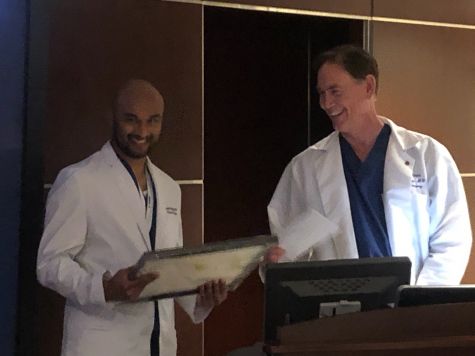 Congratulations to Ruwan Ratnayake, MD, who just received the Thornburg Award on June 10, 2020 for his research presented at the 2020 Annual Gittes Meeting at Scripps Green Hospital in La Jolla, California. The award is for Research in Surgery by a Fellow.
SDSF in a COVID-19 World
SDSF and the San Diego Spine Fellowship Program continue to be operational during this historic pandemic. Thanks to the combined dedication of our faculty, fellows and staff, training continues largely via Zoom conferencing with all bi-weekly spine conferences, research meetings and Journal Club meetings being held via online conferencing. Our Visiting Professorship Meeting for 2020 will be reassessed in the near future, based on state and local mandates. We hope to fully engaged with our spine community as soon as we are able.
In the meantime, SDSF hopes everyone will stay well so we can bend the curve and resume normal operations. Best wishes to everyone!
Introducing Mai Lee, aPHR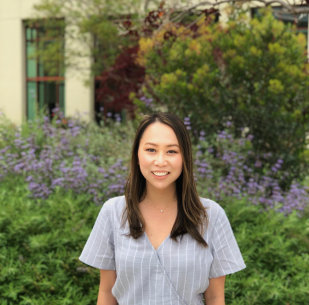 SDSF is pleased to welcome Mai Lee, aPHR as the newest member of our family, with her primary role as Fellowship Administrator. Mai received her B.S. in Business Administration from San Diego State University. She has a background in human resources and has held various HR roles in the areas of onboarding, recruiting, training, employee relations, benefits, and systems. Mai spent the majority of her career working for a non-profit research institute and was most recently at a clinical-stage biotech company before joining the San Diego Spine Foundation. She enjoys supporting organizations that are making meaningful impact to improving human health and quality of life. She enjoys exploring San Diego, cooking, and spending time with family located in San Diego and Minnesota.
2020 Winter Gala - Thank You!
The SDSF-GSO combined winter Gala, held on February 28, 2020 at the Hyatt Aventine Hotel, was a tremendous success. We cannot thank everyone enough who contributed to our success. All photos from our event can be viewed on our webpage at https://www.sandiegospinefoundation.org/about/2020-gala/
Our

Mission
To Serve the Spine Community through Achievement of Professional Excellence and Optimization of Clinical Care  
Our

Vision
To enhance professional excellence in spine care in San Diego through mentorship, education, research, advocacy, and leadership, while serving patients with spinal disorders through quality care that is thoughtful, scientific, and compassionate 
Spine Fellowships
Fellowship training is critical to the advancement of spinal care. The Foundation supports the San Diego Spine Fellowship program. All participating surgeons in the program are nationally recognized specialists in both non-operative and operative spine care.
For physicians seeking information about applying for the Fellowship program, please Learn More Here.