Home About News RESEARCH GRANT - CALL FOR APPLICATION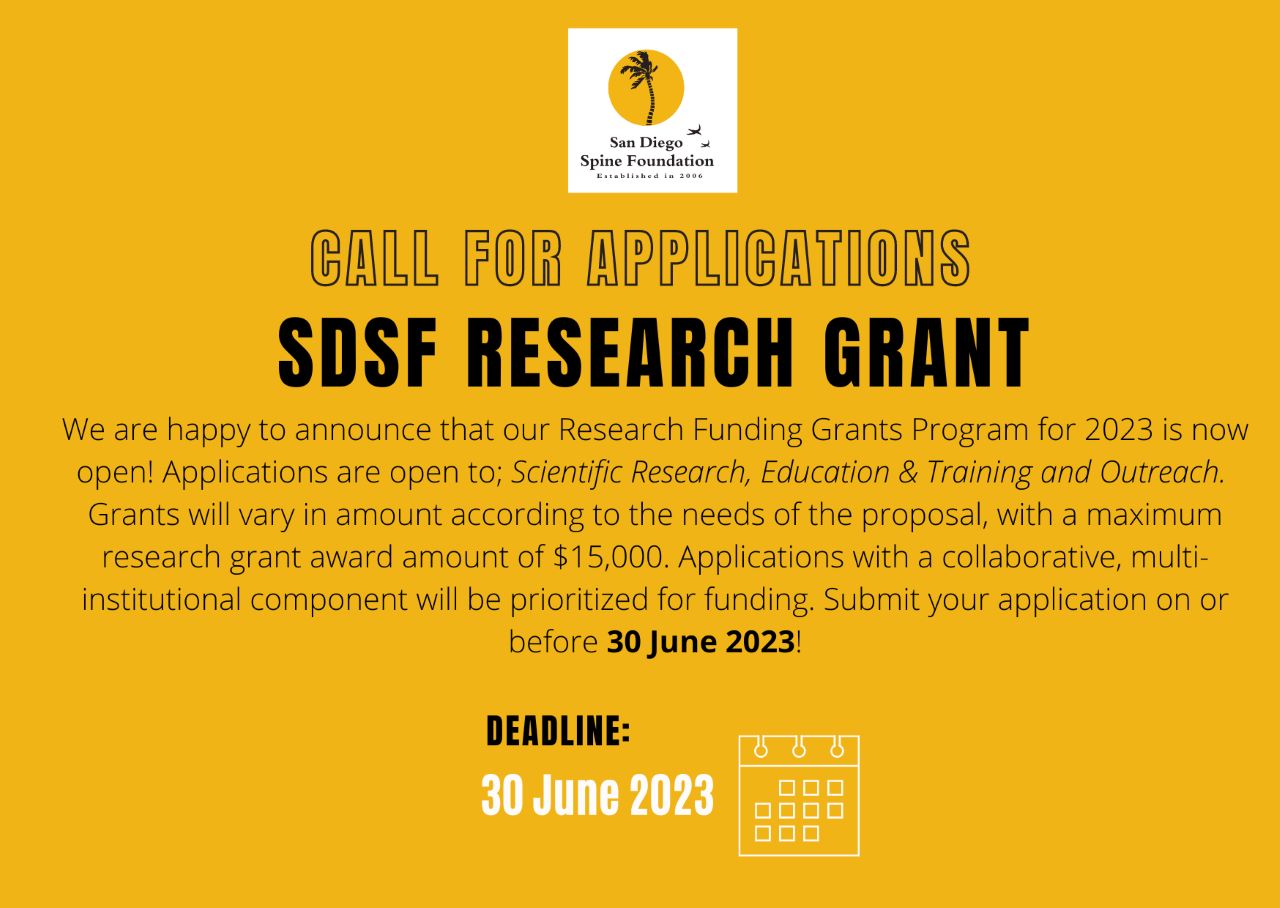 APPLICATION FOR SAN DIEGO SPINE FOUNDATION RESEARCH GRANT
Submit the application form, Biosketches, and other documents in a combined PDF format to: grants@sandiegospinefoundation.org
The SDSF research mission aims to support collaborative research focused on applying basic, translational, and clinical science to improve education, foundational knowledge, and quality of clinical care for individuals with spine conditions.
Grants will vary in amount according to the needs of the proposal, with a maximum research grant award amount of $15,000. Available funds will vary for each cycle depending on yearly resources. Applications with a collaborative, multi-institutional component will be prioritized for funding.
Application Timing and Review Process:
Applications are reviewed by the SDSF Research Committee consisting of Robert Eastlack, MD, Sam Ward PT, PhD, Jeff Pawelek, and Bahar Shahidi PT, PhD, Chair.
Application Deadline: June 30, 2023
Committee Review: July 3, 2023
Notice of Award: July 31, 2023
Applicant Eligibility:
Trainees, including medical students, residents, and fellows
Individuals with PhD's involved in academic or industry-focused research
Individuals with clinical degrees treating patients with spine conditions (MD's, allied health care professionals)
Funding Restrictions:
Support for institutional overhead is not included in the funding
A cap of $150,000 will be applied to effort for salary support
DOWNLOAD THE 2023 SDSF RESEARCH GRANT APPLICATION. CLICK HERE