Home About Board of Directors Samuel R. Ward, P.T., Ph.D
Samuel R. Ward, P.T., Ph.D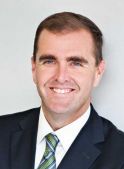 Samuel R. Ward, P.T., Ph.D. is a Professor in the Departments of Orthopaedic Surgery, Radiology, and Bioengineering at UC San Diego. He is also the Vice-Chair of Research in Orthopaedic Surgery, Co-Director of the Translational Science Partnerships Program, and Director of the Muscle Physiology Laboratory.

Dr. Ward started his education at UC Davis in Civil and Materials Science Engineering, and completed his degree in Physical Therapy at CSU Long Beach (1997) before practicing at USC University Hospital (1997-1999). He received his PhD from USC (1999-2003) and came to UC San Diego for a post-doctoral fellowship (2003-2006). He has served in the roles of Treasurer, Financial Advisor, and President for a number of State and National organizations. He is a standing NIH Study Section Member, and has served as the Chair of the Scientific Advisory Board for a number of organizations. At UC San Diego, he has served and chaired a number of committees in the School of Medicine and on Main Campus. He is a 2018 graduate of the Health Leadership Academy.

Dr. Ward is a clinician-scientist and his research program focuses on musculoskeletal design and plasticity. He has published 125 peer-reviewed manuscripts and has been continuously funded by the NIH, DoD, and other agencies since he started his faculty appointment in 2006. His scientific accomplishments include defining the structural features of human skeletal muscle that predict function in the extremities and spine. This work has been extended to understand normal and pathological muscle biology and physiology in the presence of joint disease. His current focus is on understanding chronic muscle atrophy and cell death in mature adults, with an emphasis on the use of stem cells and regenerative medicine approaches to treat these disease processes. His work has led to career achievement awards including the Kappa Delta Award from the American Academy of Orthopaedic Surgeons and Marion Williams Award from the American Physical Therapy Association. He is also a Fellow of the American Physical Therapy Association and a Distinguished Alumn at the University of Southern California and California State University Long Beach.

Sam is also an avid craftsman, photographer, and outdoorsman. His artistic work has been featured and won awards at several local and state competitions.