Board of Directors
Behrooz A. Akbarnia, M.D.
President, Board of Directors
Director Emeritus and
Faculty Member,
Spine Fellowship Program
Sarah E. Aghassi, Esq.
Member, Board of Directors
Robert K. Eastlack, M.D.
Member, Board of Directors
Co-Director and
Faculty Member,
Spine Fellowship Program
Gregory M. Mundis, Jr., M.D.
Member, Board of Directors
Co-Director and
Faculty Member,
Spine Fellowship Program
Patricia N. Kostial, R.N., B.S.N.
Treasurer; Executive Director
Administrator,
Spine Fellowship Program
Jeff Pawelek, BS
Research Director
Member, Board of Directors
We now accept credit and debit card donations. Please click the Donate Button link below to make your donation.
Research Programs
The San Diego Spine Foundation is actively engaged in a number of research programs intended to improve spine care.
Education Programs
2015 Visiting Professor Meeting
Friday, July 24, 2015
For information on agenda, faculty, events, and sponsors
please click here.
News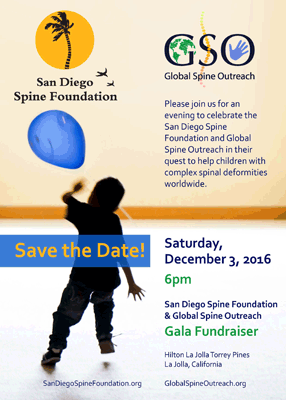 December 3, 2016 - Our Gala Fundraiser at the Hilton La Jolla Torrey Pines. We hope to see you there.