2016 Annual Report Available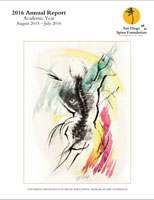 2016 was an eventful and exciting year. We had multiple research projects underway and also expanded our global footprint. During our 2016 Strategic Planning Meeting, our Board agreed to add Outreach to our mission statement. Members of our faculty, including Don Blaskiewicz and Greg Mundis, Jr., had already started traveling to Africa and Mexico to provide spine care to those in need, followed by our past fellow Eddie Nomoto, who has become a regular Surgeon Volunteer. I also accompanied the Global Spine Outreach (GSO) in December 2015 and again this past August in our combined GSO and SDSF mission trip. Pat Kostial made her first trip to Mexico also in August and her experience is chronicled in our feature article, "Building Bridges," in this report.
Download 2016 Annual Report Now
Our Mission
To Foster Excellence in Education, Research and Outreach Related to the Care of Patients with Spinal Disorders, their Families and the Medical Community.
Spine Fellowships
Fellowship training is critical to the advancement of spinal care. The Foundation supports the San Diego Spine Fellowship program. All participating surgeons in the program are nationally recognized specialists in both non-operative and operative spine care.
For physicians seeking information about applying for the Fellowship program, please Learn More Here.