Patient Stories
Ultimately, all of our research activities lead to improved patient treatment and outcomes. In this new area of our website, we will introduce you to personal patient stories related to the Foundation's activities.
Karen's Story
Building Bridges in Mexico. Karen's story is no different than any teenager with idiopathic scoliosis, except that in her case, treatment could remain only a dream. Read Karen's story here.
Lori's Story
How does a spine surgeon end up walking a patient down the aisle? Hint... It isn't because she needs help. Lori's story tells us about love and the way our lives can change in a moment..., for better and for worse. Read Now.
Alejandra's Story
Alejanda had been seen by a local physician who told her father there was nothing he could do, and she should stop all physical activity due to risk of injury to her spine. Nothing else was offered and her father was devastated and hopeless. Read Alejandra's story.
Marina's Story
The story of Marina's life and surgery is an inspiration to everyone who reads it. Learn how perseverance, determination, and drive have shaped Marina's life and character. Read Now.
Colbie's Story
"YOU'RE IN THE RIGHT PLACE." These are the first words we heard from Dr. Akbarnia and words we
will never forget. They immediately lifted a huge weight off of our shoulders and gave us hope for
our daughter after two years of uncertainty. Read Colbie's Story
Chuck's Story
No one wants to stop being active and healthy, especially not Chuck. After trying and failing virtually all non-surgical treatment methods, I finally began gathering information from surgeons, and I had surgery scheduled already when he came to meet Dr. Donald Blaskiewicz and Dr. Gregory Mundis, Jr.  Chuck's Story
Anthony's Story


Anthony Wainess was one of the two patients implanted with the MCGR rods on May 7th, 2013. We asked Anthony's father, if he would be willing to sit down and help us write a story about his experience. Steve Wainess went on to write an incredibly honest and poignant story about his son's difficult path and how the MCGR procedure changed and altered his life.
Anthony's Story (Growing Rods in Early Onset Scoliosis)

We now accept credit and debit card donations. Please click the Donate Button link below to make your donation.
Research Programs
The San Diego Spine Foundation is actively engaged in a number of research programs intended to improve spine care.
Education Programs
2015 Visiting Professor Meeting
Friday, July 24, 2015
For information on agenda, faculty, events, and sponsors
please click here.
News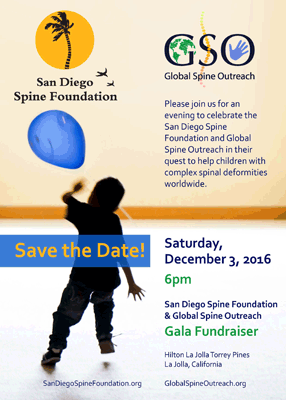 December 3, 2016 - Our Gala Fundraiser at the Hilton La Jolla Torrey Pines. We hope to see you there.