San Diego Spine Foundation Is Part Of Amazon Smile

We are pleased to give you the opportunity to support the San Diego Spine Foundation when you make purchases on Amazon. Amazon has a new program named Amazon Smile.
You get the same Amazon products, price and convenience, with the key difference being that Amazon will donate a small portion of the purchase to the Foundation.
If you would like to participate, please go to the website: http://smile.amazon.com. You will want to do a quick registration and select San Diego Spine Foundation (or other listed charity) as your charity of choice. Then, when you plan to shop online, simply go to smile.amazon.com and when you log in, at the top, it will show the organization's name you are supporting.
It is very easy to do, and I hope you'll consider this. It's an easy way to give back and the money will go to support our Foundation's research, education and outreach programs.
Thanks for your consideration, and on behalf of the Foundation, I wish everyone a wonderful year!
Sincerely,
Pat Kostial, RN, BSN

We now accept credit and debit card donations. Please click the Donate Button link below to make your donation.
Research Programs
The San Diego Spine Foundation is actively engaged in a number of research programs intended to improve spine care.
Education Programs
2015 Visiting Professor Meeting
Friday, July 24, 2015
For information on agenda, faculty, events, and sponsors
please click here.
News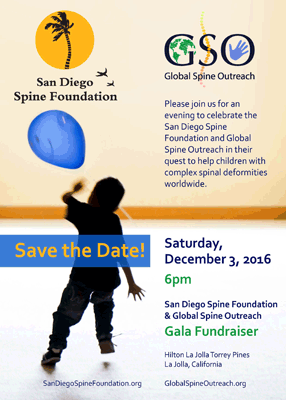 December 3, 2016 - Our Gala Fundraiser at the Hilton La Jolla Torrey Pines. We hope to see you there.