Fellowship Gatherings
The word "fellowship" has two meanings. In the medical context, it refers to training and education at the highest level..., the honing of the skills of a surgeon under the guidance of experts in the field.
It also refers to companionship and the institution of life-long relationships and friendships built on shared goals and experiences.
The San Diego Spine Fellowship Program endeavors to accomplish both these goals.
Follow these links to see previous participants in the Fellowship Program.
Previous Event information:
More Information
We now accept credit and debit card donations. Please click the Donate Button link below to make your donation.
Research Programs
The San Diego Spine Foundation is actively engaged in a number of research programs intended to improve spine care.
Fellowship Programs
The Foundation supports the San Diego Spine Fellowship, in affiliation with a number of local hospitals and medical centers.
News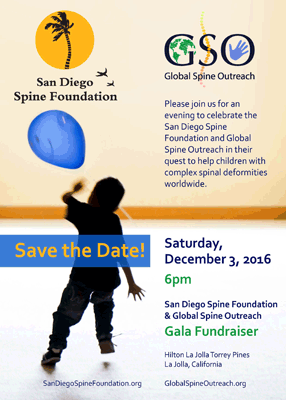 December 3, 2016 - Our Gala Fundraiser at the Hilton La Jolla Torrey Pines. We hope to see you there.

April 4, 2016 - Dr. Akbarnia's mentorship of the next generation of spine surgeons is featured in Beckers Spine Review. Read Now