Magnetic Growing Rods - Video
For More Information
Pat Kostial, RN, BSN
Executive Director
San Diego Spine Foundation
4130 La Jolla Village Drive; Ste 300
La Jolla, CA 92037
Tel: (858) 678-0610
We now accept credit and debit card donations. Please click the Donate Button link below to make your donation.
Research Programs
March 13, 2014 - Dr. Akbarnia presents Magnetic Growing Rods research at AAOS Annual Meeting in New Orleans Read More
May 8, 2013 - Surgeons implant Magnetic Growing Rods in Groundbreaking Treatment for Early Onset Scoliosis. Press Release.
News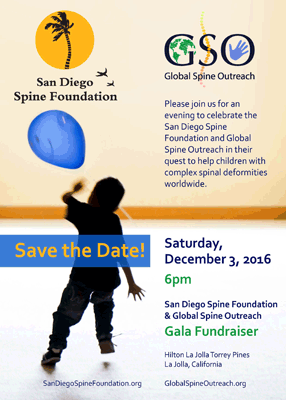 December 3, 2016 - Our Gala Fundraiser at the Hilton La Jolla Torrey Pines. We hope to see you there.