Magnetic Growing Rods - In the News
Growing Rods Presentation at American Academy of Orthopaedic Surgeons Annual Meeting
Magnetically controlled growing rods yield similar curve correction as traditional growing rods in pediatric scoliosis patients but require fewer surgeries. See this article published March 13th, 2014 on healio.com.
Pioneering Surgery at Rady Children's Hospital San Diego
In a revolutionary treatment for early-onset scoliosis (EOS), a team of surgeons implanted adjustable growing rods in two children from California. The pioneering surgeries — the first ever in the United States — were performed on May 7th, 2013 at Rady Children's Hospital in San Diego. The Food and Drug Administration (FDA) granted Compassionate Use approval to use the MAGEC™ (MAGnetic Expansion Control) System, developed by Ellipse Technologies, Inc., for these two patients.
Dr. Behrooz A. Akbarnia, a world-renowned pioneer in advanced treatments for scoliosis in young children, led the surgeries. Dr. Akbarnia is Medical Director of the San Diego Center for Spinal Disorders and Clinical Professor in the Department of Orthopaedic Surgery at University of California, San Diego. Orthopedic surgeons Dr. Burt Yaszay and Dr. Gregory Mundis, who are also members of the early-onset scoliosis program at Rady Children's Hospital, participated in the procedures. 
The surgery was extensively covered in the press.
Watch the story on Channel 7 NBC Affiliate
Watch the story on Fox 5 San Diego
Read the Story at the San Diego Union Tribune
Read the Original Press Release
Pat Kostial, RN, BSN
Executive Director
San Diego Spine Foundation
6190 Cornerstone Ct. East
Suite 212
San Diego, CA 92121
Tel: (903) 383-7295
We now accept credit and debit card donations. Please click the Donate Button link below to make your donation.
Research Programs
March 13, 2014 - Dr. Akbarnia presents Magnetic Growing Rods research at AAOS Annual Meeting in New Orleans Read More
May 8, 2013 - Surgeons implant Magnetic Growing Rods in Groundbreaking Treatment for Early Onset Scoliosis. Press Release.
News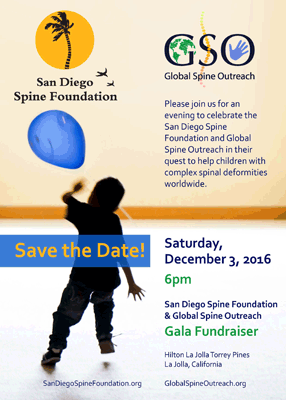 December 3, 2016 - Our Gala Fundraiser at the Hilton La Jolla Torrey Pines. We hope to see you there.