Annual San Diego Spine Visiting Professors Conference
Since 1997, our Annual Conference has brought thought leaders to San Diego to teach, interact, and inspire. Previous visiting professors have included:
2014
Brian K. Kwon, MD, PhD, FRCSC
2013
R. Shay Bess, M.D.
2012
Christopher I. Shaffrey, M.D. —
—2011
Frank M. Phillips, M.D.
—2010
Oheneba Boache-Adjei, M.D.

2008
Sigurd Berven, M.D.

2007
Neel Anand, M.D.
Oheneba Boachie-Adjei, M.D.

2006
Lawrence Lenke, M.D.                       
SRS InternationalTraveling Fellows

2005
Luis Pimenta, M.D.
Tushar Patel, M.D.
Robert W. Gaines, M.D.
2004
John Kostuik, M.D.
Paul Asdourian, M.D.
Eric Trummees, M.D.
Paul Glaser, M.D.
2003
John Lonstein, M.D.
Kevin Foley, M.D.
2002
Daniel Benson, M.D.
Keith Bridwell, M.D.
Patrick Johnson, M.D.
Randal Betz, M.D.
2001
Rick Delamarter, M.D.
Edward Benzel, M.D.
David Polly, M.D.
2000
Vance Gardner, M.D.
Robert Winter, M.D.
Jeffery Wong, M.D.
1999
Edgar Dawson, M.D.
Melvin Whitfield, M.D.
Daniel Capen, M.D.
Theodore Wagner, M.D.
1998
Harry Shufflebarger, M.D.
Hansen Yuan, M.D.
Anthony Yeung, M.D.
1997
Ronald Blackman, M.D.
Pasquale Montesano, M.D.
We now accept credit and debit card donations. Please click the Donate Button link below to make your donation.
Research Programs
The San Diego Spine Foundation is actively engaged in a number of research programs intended to improve spine care.
Education Programs
September 2013 - Dr. Akbarnia in Kansas City with Marc Asher, M.D.
Photo
News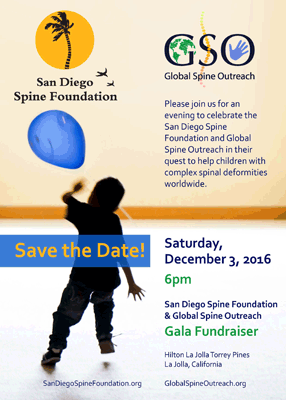 December 3, 2016 - Our Gala Fundraiser at the Hilton La Jolla Torrey Pines. We hope to see you there.

April 4, 2016 - Dr. Akbarnia's mentorship of the next generation of spine surgeons is featured in Beckers Spine Review. Read Now