Monthly Journal Club Meetings:
The San Diego Spine Fellowship Program curriculum includes a monthly Journal Club meeting in which assigned journal articles are reviewed and discussed for their scientific merit, relevance and application to present day patient care. At times, a guest speaker is also included and journal articles are assigned to complement the topic presented. Community spine surgeons are invited to attend these meetings with the goal of improving the quality of patient care.
We would like to thank our sponsors and faculty for hosting many of our monthly events:
August 2013 DePuySynthes Spine
September 2013 Pioneer/RTI
October 2013 Stryker Spine
November 2013 Globus Medical
January 2014 Medtronic
February 2014 DePuySynthes Spine
March 2014 TBA
April 2014 Dr. and Mrs. Akbarnia
May 2014 Compass Spine
June 2014 TBA
July 2014 TBA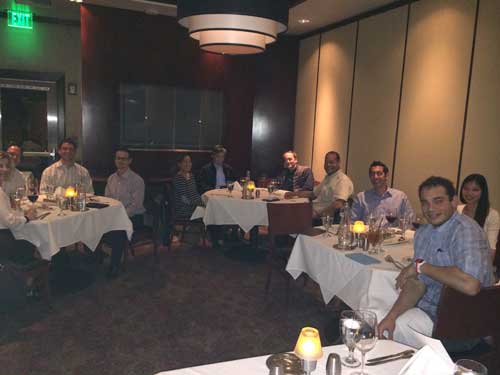 We now accept credit and debit card donations! Please find the attached form, or contact Pat Kostial to donate via credit/debit card (Click Here for Donation Form)
If you would prefer to discuss a contribution with our Executive Director, please contact:
Pat Kostial, RN, BSN
Executive Director
San Diego Spine Foundation
6190 Cornerstone Ct. East
Suite 212
San Diego, CA 92121
Tel: (903) 383-7295
We now accept credit and debit card donations. Please click the Donate Button link below to make your donation.
Research Programs
The San Diego Spine Foundation is actively engaged in a number of research programs intended to improve spine care.
Education Programs
2015 Visiting Professor Meeting
Friday, July 24, 2015
For information on agenda, faculty, events, and sponsors
please click here.
News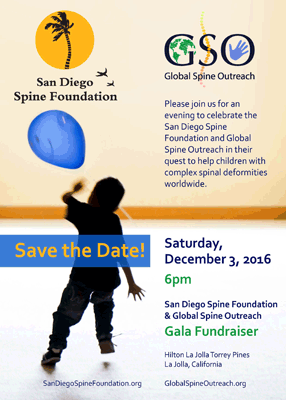 December 3, 2016 - Our Gala Fundraiser at the Hilton La Jolla Torrey Pines. We hope to see you there.