2016 Annual San Diego Spine Visiting Professors Conference
2016 San Diego Spine Foundation
Visiting Professorship Annual Meeting
Friday, July 29, 2016
Scripps Green Hospital Amphitheater 2nd Floor
10666 N. Torrey Pines Rd; La Jolla, CA


Visiting Professor
Christopher M. Bono, MD
2016 North American Spine Society President
Associate Professor of Orthopedic Surgery at Harvard Medical School
Chief of the Orthopaedic Spine
Service at the Brigham and Women's Hospital (BWH).
Fellowship Director for the MGH-BWH Combined
Orthopaedic Spine Surgery Fellowship and
Co-Director of the Brigham and Women's Comprehensive Spine Center
Faculty:
BEHROOZ A. AKBARNIA, MD
TODD ALLEN, MD, PhD
JAMES D. BRUFFEY, MD
YOUSEF GHANDOUR, PT, MOMT, FAAOMPT
CHOLL W. KIM, MD, PhD
PAUL D. KIM, MD
YU PO LEE, MD
HAI-­‐YAN LI, MD
SCOTT E. MUSICANT, MD, FACS
GREGORY M. MUNDIS, JR, MD
PETER O. NEWTON, MD
JONATHAN G. ROPER, MD
HOWARD SEEHERMAN, PhD
WILLIAM L. TONTZ, JR, MD
BURT YASZAY, MD
With thanks to the Supporters of this Annual Event. We appreciate your recognition of its importance, along with your generous support.
We now accept credit and debit card donations. Please click the Donate Button link below to make your donation.
Research Programs
The San Diego Spine Foundation is actively engaged in a number of research programs intended to improve spine care.
Education Programs
September 2013 - Dr. Akbarnia in Kansas City with Marc Asher, M.D.
Photo
News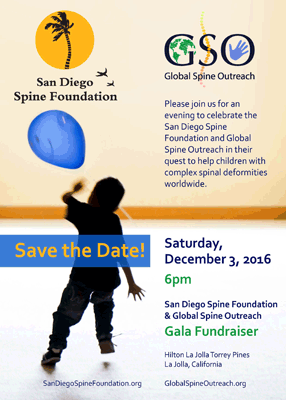 December 3, 2016 - Our Gala Fundraiser at the Hilton La Jolla Torrey Pines. We hope to see you there.

April 4, 2016 - Dr. Akbarnia's mentorship of the next generation of spine surgeons is featured in Beckers Spine Review. Read Now