SAN DIEGO SPINE FELLOWSHIP
SAN DIEGO SPINE FELLOWSHIP
6190 Cornerstone Ct. East
Suite 212
San Diego, CA 92121
Tel: (903) 383-7295

Email: Email to Fellowship Program
Current Faculty

 

Behrooz A. Akbarnia, M.D.
Director Emeritus
Robert K. Eastlack, M.D.
Co-Director 
Gregory M. Mundis, Jr., M.D.
Co-Director

 
 
 

| | | | |
| --- | --- | --- | --- |
| | | | |
| Ramin Bagheri, M.D. | James D. Bruffey, M.D.  | Maneesh Bawa, M.D. | Donald Blaskiewicz, M.D. |

 
 
Past Faculty

Richard E. Manos, M.D.

Vert Mooney, M.D.
Apr 27, 1931 - Oct 13, 2009
Bruce E. van Dam, M.D.
Retired
R. Shay Bess, M.D.

 
 
Fellowship
Administrator
Duration
Yearly from August 1st to July 31st
Application Information
The San Diego Spine Fellowship participates in the SF Match program.  Please click here to visit the SF Match website for more information and to complete your application:
Application Deadline 
Yearly on November 1st
Stipend
$64,000 (includes health and malpractice insurance)
Affiliated Facilities 
Sharp Memorial Hospital; Rady Children's Hospital; Scripps Memorial Hospital; Scripps Clinic;Scripps Green Hospital and Scripps Mercy Hospital
Program Description

The spine fellowship is designed to provide the orthopaedic surgeon or neurosurgeon who has successfully completed residency, with comprehensive exposure to the diagnosis and treatment of all aspects of spinal disorders.  Surgical procedures include anterior, posterior and minimally invasive techniques.  Individuals completing the fellowship will have comprehensive exposure to pediatric and adult patient populations. 

All participating surgeons in the program are nationally recognized specialists in both non-operative and operative spine care. Fellows will participate in outpatient and inpatient care.  The Fellow is given increasing responsibility throughout the year based on individual achievements.  Clinical and basic science research projects are on going. Fellows are expected to complete at least one major research project of publishable quality within the year. 

Applicants must be Board-eligible or -certified and have obtained a California medical license 6 months in advance of commencement of the fellowship (mandatory). The use of the SF Match Central Application Service (CAS) is mandatory.  Applicants fill out only one application form and provide one set of documents and CAS will distribute these documents to the applicant's designated programs.  Per SF Match guidelines, three letters of recommendation are required, including one from a residency program director. Applicants who are seriously considered for the fellowship will be asked for an interview as outlined in the matching guidelines.

Fellowship Program Profile:
Percent of fellowship devoted to operative care:

70%

Percent of fellowship devoted to non-operative care:

20%

Percent of fellowship devoted to research and education:

10%

Percent of exposure to spine by region:
 
Lumbar 

50%

Cervical

30%

Thoracic

20%

Percent exposure to spine by diagnosis:
 
Degenerative

60%

Adult Deformity

30%

Pediatric Deformity

5%

Trauma/Tumor

5%
We now accept credit and debit card donations. Please click the Donate Button link below to make your donation.
Research Programs
The San Diego Spine Foundation is actively engaged in a number of research programs intended to improve spine care.
Fellowship Programs
The Foundation supports the San Diego Spine Fellowship, in affiliation with a number of local hospitals and medical centers.
News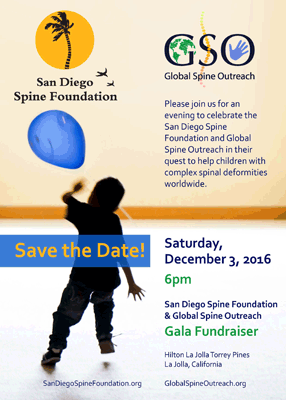 December 3, 2016 - Our Gala Fundraiser at the Hilton La Jolla Torrey Pines. We hope to see you there.

April 4, 2016 - Dr. Akbarnia's mentorship of the next generation of spine surgeons is featured in Beckers Spine Review. Read Now